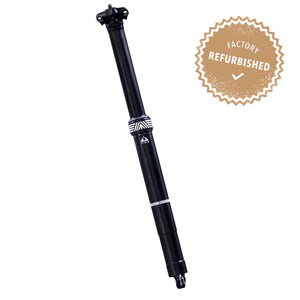 The Deets: 
For bikes with seat post diameter: 

30.9, 31.6 or 34.9mm (depending on availability)
For Bikes with internal cable routing  
Tool-less Travel Adjust - allows for 30mm travel reduction in 5mm increments

Featuring 125, 150, 170 or 200mm of travel

 (depending on availability) 

Sealed air cartridge 
Lightweight 7075 Alloy 
Weights (30.9): 125mm - 545g, 150mm - 575g, 170mm - 605g, 200mm - 640g 

(weights vary slightly between diameters)

The purchase of dropper does NOT include lever, cable, housing, or

barrel nut adapter

Only available in the US and Canada
Levers: 
Need a lever to go with your new to you dropper?  
Click here to shop for a NEW PNW Components Lever. 
Due to the viability and bandwidth of refurbishing and stocking, we are not selling used PNW Components' Levers on PNW Cycled at this time. Thank you for understanding. 
If you need cable and housing to set up this dropper with your current lever you can find a kit here. 
Our goal at PNW Cycled is to provide you with the best product for your needs. We ask our customers to recognize that these products are recycled and thus come with certain terms and conditions as stated below:


 MEASUREMENTS: 



| | | | | | |
| --- | --- | --- | --- | --- | --- |
| A | Travel | 125mm | 150mm | 170mm | 200mm |
| B | Seat Collar to Center of Rails | 180mm | 205mm | 225mm | 255mm |
| C | Total Length | 403mm | 453mm | 493mm | 555mm |
| D | Min. Insertion Length | 125mm | 125mm | 150mm | 180mm |
| E | Full Insertion Length  | 223mm | 248mm | 268mm | 300mm |
| * | 30.9 Weight  | 538g | 584g | 618g | 666g |
| * | 31.6 Weight | 556g | 600g | 634g | 688g |
| * | 34.9 Weight | 628g | 694g | 738g | 804g |